The National Exchange Club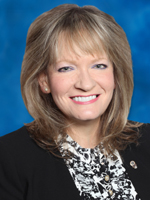 Tracey Edwards
Executive Vice President and Chief Executive Officer
Tracey Edwards has served as Executive Vice President and Chief Executive Officer of The National Exchange Club since January 2012. She was appointed from her previous position of Senior Finance Director. Tracey serves as a member of the National Board of Directors and is the active managing employee of The National Exchange Club. She oversees National Headquarters staff in providing professional and technical assistance to membership through engagement, education, and enhancement of Exchange's national image. Tracey serves as Secretary for both the corporation and the National Exchange Club Foundation, which she also actively supports. She is a Past President of the Old Newsboys Goodfellow Association, an association that upholds a mission and values that align with The National Exchange Club's, and was a finalist for the 2015 Toledo-area Jefferson Awards. Tracey graduated from The University of Toledo and is a member of The Ohio Society of CPAs, The American Society of Association Executives, The Association of Fundraising Professionals, The Society of Human Resource Management, Chi Omega Fraternity, ProMedica Toledo Hospital Auxiliary, and Leadership Toledo. She is a Dale Carnegie course instructor.
Tracey loves people who enjoy making a difference, community service, college football (GO BUCKS!), wine and wineries and walking her three shih tzus. She and her husband, Steve, have one awesome son.
---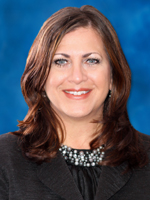 Louise Kachmarik
Director of Membership Development
Louise Kachmarik joined the staff of the National Exchange Club in 2014, and was appointed to Director of Membership Development in 2017. Louise works with clubs and leadership throughout the country with an emphasis on member development, club tools and resources and membership expansion.
Louise graduated from the University of Toledo with a Bachelor of Applied Science, minoring in Marketing. She has worked several sales, marketing, managing, and training positions during her career. Having served on various local boards, she is currently a member of the ProMedica Toledo Hospital Auxiliary, Maumee Chamber of Commerce, and Exchange Club of Maumee and Exchange Club of Toledo. She also serves as the "11/11 @ 7" event committee chairperson working closely with Exchange's partner, Veteran's Matter. She enjoys contributing to her church and many other organizations that involve her with community service. She mentioned that "The National Exchange Club is a good fit to serve the community on a local and national level".
Louise, her teenage son Evan, and her husband Craig, who is also a member and past president of the Exchange Club of Maumee, are involved in many Exchange events. She enjoys all things sports, outdoors, and spending time with family and friends.
---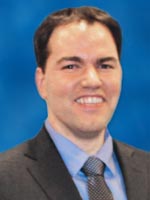 Andrew Mehling
Membership Development Manager
Andrew Mehling is the Membership Development Manager for The National Exchange Club. He is committed to the engagement and growth of Exchange's membership, and to working to help the organization's members better serve their communities by providing assistance, training, and resources.
Andrew earned his Bachelors of Arts in Political Sciences from Bowling Green State University with an individualized planned minor studying organizational structure; additionally, he has an Associate Degree in Business. Andrew relishes the opportunity to learn new things and works to make the most out of everything life has to offer.
He enjoys the company of friends and family, participating in and watching sporting events, experiencing new opportunities, and helping to improve communities.