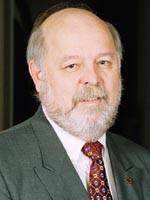 Benny Ellerbe
Executive Director and Chief Operations Officer
Benny has been serving Optimist International for the past 14 years as Executive Director and Chief Operations Officer.
He serves on the Board of Directors and is the Corporate Secretary Treasurer of the Corporation.
As such He is responsible for the operations of the organization and its offices in St. Louis and Montreal, programs, conventions and all daily operations.
He has 30 plus years in association leadership, volunteer service and executive management. Benny has earned the C.A.E. (Certified Association Executive) designation, and as well holds a M.B.A. and B.B.A. in Business Administration.
From 1992 to 2003, he resided in Coral Gables, Florida where is served as Secretary General of Junior Chamber International.
In his volunteer roles, he has served as a Club President of a 200-member Club, a State President of the 8,300 member Louisiana Jaycees, several National/International Committee Chairmanships and a National Vice President and was Distinguished at every level. In his role as a Lt. Governor he built 10 Clubs during his year of service which was #1 in the organization.
Benny resides in St. Louis, Mo, has been married for 47 years, with 5 Children 7 Grand Children, soon to be 8.
---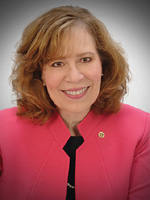 Rebecca Butler Mona
President of Optimist International
Rebecca Butler Mona is currently President of Optimist International.
Rebecca recently retired from IBM following a 32-year career in a range of global and national marketing leadership roles, after beginning in a sales role as a client executive in Des Moines, IA. Most recently, she served as Director, Portfolio Marketing for IBM Cognitive Process Transformation in the IBM Global Business Services unit, responsible for global marketing strategy and demand generation. She concurrently served as Senior State Executive for IBM in Iowa, with leadership for IBM's employee community engagement and government relations.
Rebecca is a native of Red Oak, Iowa, and holds a Bachelor of Science in Business Administration from Drake University, with majors in Marketing and Human Resource Management. She has held a number of alumni volunteer leadership roles at Drake University, and currently sits on the Executive Committee of the National Advisory Board for the Donald V. Adams Leadership Institute (DVALI).
As an Optimist, Rebecca is a charter member and Past Distinguished President of the Noon Optimist Club of Western Des Moines, and has served on the board since the club began in 1989. She is a Past Distinguished and Outstanding Governor of the Iowa District, a Past Vice President of Optimist International, and has chaired numerous Optimist International Committees. Rebecca is currently serving on the Optimist International Board of Directors, elected to a 3-year term beginning October 1, 2015, and now continuing on the Board as President-Elect.
Rebecca is married (to Mike - also an Optimist member), and is the proud mom of two teen-agers (Amanda and Alex).
---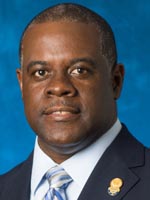 Adrian M. Elcock
President-Elect
Adrian Elcock, President-Elect, is a businessman and Director of the Elcock Group of Companies in Barbados.
He graduated from Pace University in New York with a degree in accounting, majoring in public accounting. After graduating, Adrian worked a number of years with Arthur Andersen, one of the world's largest auditing firms, before returning home to join his family business.
Adrian gives a significant amount of his free time to a number of social and civic organizations and is currently serving on a number of Boards, including:
St. George Anglican Church - Parochial Church Council
Optimist International - International Board of Directors 2015 to 2018
International President Elect: 2018 to 2019
Optimist Club of Barbados, Bridgetown Treasurer
Optimist Club of Ocho Rios, Jamaica Member
Barbados Gallery of Art Trust Trustee
In previous years he served his country by sitting on a number of Governmental organizations, including:
Fair Trading Commission of Barbados- Deputy Chairman
Barbados Tourism Authority- Chairman
Child Care Board of Barbados- Director
Barbados Conference Services Ltd- Dear Trading Commission
He is married to Ann Wallace-Elcock, a Partner with PricewaterhouseCoopers, and they have an 12-year old daughter, Sanaa, a high school student.
Adrian has been an Optimist since 1998 and he has served in the following offices:
1999-2000 Triple Distinguished Club President
2001-2002 Distinguished & Outstanding Lieutenant Governor (Caribbean District)
2005-2006 Distinguished & Outstanding Governor (Caribbean District)

2006-2007 Credentials Committee Member
2007-2009 Governance Committee Member
2010-2011 International Vice President (Southeast Region)
2012-2013 Membership Committee Member
2014-2015 Audit & Finance Committee Member
2015-2018 International Board of Directors
2018-2019 International President-Elect
In addition, Adrian is a Certified Club Builder and a Certified District Trainer
Adrian has also served in numerous club and district committees and positions and he is a proud Caribbean District Life Member.
He is especially proud that he has been an integral part of every single new club building effort in Barbados, Trinidad, Dominica, Grenada, St. Kitts & Nevis and St. Lucia. In many of these instances, he has deferred the Builder of Excellence commendation to other members who were never BOEs, and as such, the records of OI only have him as the BOE for three (3) clubs.
To date, he has also sponsored 45 members into the Optimist Family.