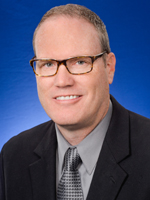 Jeff Oatess
Chief Operating Officer
Jeff has served as Kiwanis International's Chief Operating Officer for nearly two decades overseeing the organizations technology infrastructure, meetings and events team, human resources and risk management, membership and education, facilities, the innovation team, as well as the Ghent, Belgium regional office. Prior to Kiwanis, Jeff served in executive operational rolls for several for-profit corporations based in Indianapolis and Chicago. Jeff is a graduate of Ball State University, has a wife and three children and resides in Indianapolis. Besides his work in Kiwanis, he also serves as a mentor for Best Buddies, an organization dedicated to ending the social, physical and economic isolation of people with intellectual and developmental disabilities.
---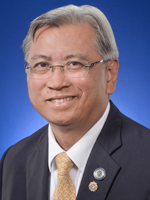 Florencio C. "Poly" Lat
2018-19 Kiwanis International President
Florencio C. "Poly" Lat of the Philippines is the 2018-19 Kiwanis International president. A retired banker, Poly has been a Kiwanis member for 30 years. He was elected president of the Kiwanis Club of Inter City Homes, Muntinlupa, Metro Manila, in 1991, was elected lieutenant governor in 2000, district governor in 2011-12 and was a Kiwanis International trustee from 2013 to 2016. He is a charter member of the Kiwanis clubs of Inter City Homes, Muntinlupa, Metro Manila; Manila Bay and Fort Bonifacio Global City.

He was one of the distinguished district governors honored at the 98th Annual Kiwanis International Convention in Vancouver, British Columbia. He was also a recipient of the Presidential Inspiration Award and Legion of Honor and is a charter Walter Zeller Fellow and a Diamond-level George F. Hixon Fellow. Under his leadership, Kiwanis received The Outstanding Philippine Leadership Excellence Award in Philanthropy (TOPLEAP Award) for Environment from a joint project of the Rotary Club and Jaycees International. At the 2015 Asia Pacific Convention, he was presented the Centennial Award, the first for members of Kiwanis Asia-Pacific.

He enjoys spending time having fun with his family and friends. He is married to Susan and has three adult children (Ms. Diane, Dr. Dan & Dra. Geline), all of whom graduated from the University of the Philippines with honors (2 Cum Laude & 1 Magna Cum Laude). He derives great joy as grandpa playing with his three grandchildren, Iñigo, Nica and Lia.
---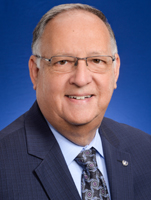 Arthur "Art" Riley
Vice President
Arthur "Art" Riley of Westminster, Maryland, is vice president of Kiwanis International. He was elected as a trustee of Kiwanis International in July 2014 at the 99th Annual Kiwanis International Convention in Tokyo-Chiba, Japan.

Art's dedication to Kiwanis began in 1956 during travel with his father to the Kiwanis International convention in San Francisco, California. That experience gave him an initial view of the Kiwanis world that resulted in his involvement in many Kiwanis activities. Official service began as a member of Key Club and has continued as a member of the Kiwanis Club of Westminster, Maryland, for 38 years, serving in many leadership positions. Additionally, he is a member of the Centennial Internet Club and the Kiwanis Club of State Line, Maryland. Art's leadership has been demonstrated as a Key Club lieutenant governor and numerous positions within the Capital District, culminating as governor in 2007-2008.

Since election to the Kiwanis International Board, Art served as board counselor to the Belgium-Luxembourg, Kentucky-Tennessee, Louisiana-Mississippi-West Tennessee, Missouri-Arkansas, Pennsylvania and West Virginia Kiwanis districts. During 2016-17, that list expanded to the Ohio, Pacific-Northwest and Philippine South Districts.

For the 2018-19 administrative year, Art is chair of the Board of Directors of the Kiwanis Youth Programs Inc., chair of the Board Committee on Public Relations, Image and Marketing, and a member of the Executive Committee and Board Committee on Membership and Education. He is also a member of the Board of Trustees of the Kiwanis Children's Fund.

Professionally, Art has practiced pharmacy and successfully managed pharmacy practices for more than 45 years. His wife Vickie is a past president of the Kiwanis Club of Westminster and is a retired elementary school teacher. He has three adult children and three grandchildren. Art is involved in many community activities that include lay speaking at his church and has published a titled, "At the Foot of the Cross."
---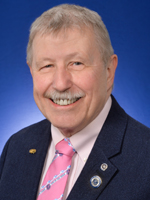 James "Jim" Rochford
Immediate Past President
James "Jim" Rochford, Peoria, Illinois, is the immediate past president of Kiwanis International. He was elected to the one-year term during the 102nd Annual Kiwanis International Convention in Paris in 2017. He has been a member of the Kiwanis Club of Peoria, Illinois, for 36 years, where he has served as club president. During his year as president Jim and his team opened 411 new Kiwanis clubs.

Rochford has served in Kiwanis district leadership roles and has been an advisor for high school Key Clubs and Kiwanis university-level Circle K clubs. Within Kiwanis, Rochford is a certified trainer and is a George F. Hixson and a Walter Zeller fellow.

Outside of Kiwanis, Rochford has been Tri-County Citizen of the Year, has received the JC Penney/Golden Rule Award and is a past president of the Peoria Jaycees. He is founder and president of the Peoria Irish AAU basketball program.
Rochford, an attorney, and his wife, Debra, have two daughters, one son and four grandchildren.
---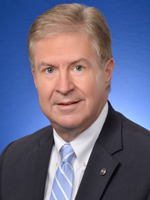 Stan D. Soderstrom
Executive Director
Stan D. Soderstrom is the executive director for Kiwanis International and the Kiwanis Children's Fund. His background includes global and community-based work in the public and private sectors.
A native of Amarillo, Texas, Stan earned his undergraduate degree at Texas Tech University with graduate studies at the University of Texas. He started his career at Sun Oil Company, and moved into consulting on energy and corporate/association management projects.

In 1992, Stan joined the Dallas Cowboys marketing team. He helped develop and launch a major retail enterprise, which coincided with the team's 1990s Super Bowl championship runs.

A shift to the not-for-profit world came in 1997, when Stan joined the staff of Kiwanis International. He has held several positions within the organization and is also an active club member.

At Kiwanis, Stan has developed fresher, more personalized club models to attract and shape the next generation of Kiwanians. Stan served as chief impact officer, which focused on the worldwide growth and development of the Kiwanis' youth and adult leadership programs. He led development of new membership-based service clubs for people who live with disabilities, and has been responsible for strategic planning and board governance for Kiwanis International and its two youth organizations, Key Club International and Circle K International.

Stan serves as board member for the Iodine Global Network, chairman of the board of the Heartland Film Festival, member for the U.S. Army's SAY (Strengthening America's Youth) advisory committee, and elder at Zionsville Presbyterian Church.

Stan and his wife, Misty, reside in Indianapolis and have two children; a daughter who is a theme park design artist/cosplay fashionista, and a son who is a U.S. Marine. He is an avid sports fan and enjoys gardening, home remodeling, cooking and dining.
---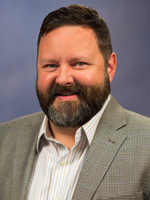 Ben Hendricks
Chief Communications Officer
Ben Hendricks joined Kiwanis International as chief communications officer in June of 2018. Ben brings 20 years of experience in public relations, marketing, branding and corporate and social responsibility to the global volunteer service organization.

He most recently was global director of public relations and social media at Teradata, a provider of analytic data solutions where he managed all product announcements, media opportunities and training, and crisis and executive communications.

Hendricks was a senior vice president and partner at the former Boston, Massachusetts, agency The CHT Group, where he managed accounts including healthcare, government affairs, medical associations and nonprofits. He has also worked for Trone Public Relations, now Trone Brand Energy, Momentum Worldwide and GMR Marketing.

A 2000 graduate of East Carolina University, Hendricks received a master's degree in Journalism and Mass Communications from Kent State University in 2013. He lives with his wife and two children in Westfield, Indiana.
---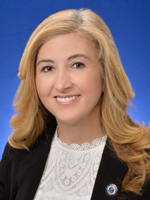 Kendra Skidmore
Bio coming