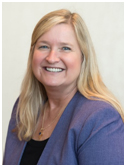 LaRae Bakerink
Chief Elected Officer
As the chief elected officer of American Mensa, LaRae Bakerink leads and coordinates the activities of the American Mensa Committee and other volunteers.
A member of San Diego Mensa since 2001, LaRae previously served on the board as Second Vice Chair and National Testing Officer. In addition, she has served as chapter president, Testing Coordinator and Webmaster.
LaRae, who is retired but still consulting, has a bachelor's degree in Finance and an M.B.A. in Management. She lives in San Diego with her husband, Steve.
She was elected Chair in 2017.
---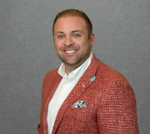 Trevor Mitchell
Executive Director/CEO
As the Executive Director/CEO, of American Mensa, Ltd. and the Mensa Foundation, Trevor Mitchell provides leadership toward the achievement of the American Mensa's mission, vision, strategy and annual goals and objectives. Trevor is responsible for the general, day-to-day administration of the affairs of the organization. He serves as chief executive officer for staff and the chief administrative officer for the Board of Directors (the American Mensa Committee or AMC) and its subsidiary Foundation (Mensa Foundation) and is charged with implementing policies and programs that benefit the society. In this role, Trevor works with the AMC in developing strategies which support the mission of American Mensa, developing and implementing the strategic goals and objectives of American Mensa, and enabling the AMC to effectively fulfill its governance function.
Prior to the move to American Mensa, Trevor served in various roles during his 8 years at ARMA International, association for records and information management professionals, with the most recent being that of Executive Director of Membership & Technology.
Throughout his career, Trevor has been active in the association management profession as well as in industry events. He is currently involved with the American Society of Association Executives (ASAE). He is a member of the Texas Society of Association Executives (TSAE) and serves as a Director on the Dallas Fort Worth Society of Association Executives (DFWAE) board. He has also contributed to several publications and presentations around the country on various association management topics. Trevor is viewed as a thought leader and expert within the association community in bridging current and future business trends to traditional association management practices.
Trevor earned the Certified Association Executive Designation in 2012. Trevor is a graduate of Columbia College in Missouri, where he obtained his Bachelor of Science in Business Administration in marketing and management. He completed his executive Masters of Business Administration degree from the University of Missouri-Columbia in May 2016.
Trevor enjoys spending time with his family and friends. When not traveling for work he is normally found enjoying a new restaurant in town, catching a moving, riding his bike, or playing the piano.

---
Jennifer Wise
Board Member
Jennifer Wise was named to the Mensa Foundation board in 2017. Professionally, she is a content writer and editor, and she holds a master's in literature from the University of Illinois at Chicago.
A second-generation Mensa member, Jennifer has served as Scholarship Chair at the local and regional levels, scholarship Volunteer Coordinator, Young Ms Coordinator, and GenY Coordinator. She was given the honor of having a scholarship named after her for the 2018 scholarship season.
Jennifer and her husband, Steven, reside in Seattle and are expecting their first child.
---

John Thompson
Philanthropy Director
As Philanthropy Director, John Thompson works closely with the Mensa Foundation Director and Foundation Trustees to cultivate a culture of giving at Mensa that will ensure funding to sustain and grow Foundation programs.
The first staffer dedicated solely to a developmental role, John comes to Mensa with a strong background in fundraising within the field of education and membership-based organizations. He is a native of Mississippi and a graduate of Mississippi State University, where he earned both his bachelor's and master's degrees.
John brings an enthusiastic personality and a passion for fundraising: "My job is not only to raise more money but to promote what the Foundation is doing."